What is a Prescription Refill?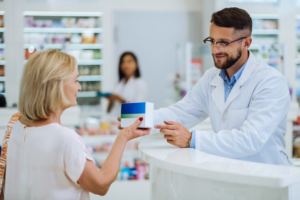 A prescription refill is required when your prescription runs out, you can get a new supply of medication from the pharmacy or medical suppliers without having to ask your doctor or prescriber for a new prescription. Certain drugs don't have refill options since your doctor may recommend you just need a particular amount of medication to treat the particular disease or discomfort.
Your doctor will decide whether to add refills on your prescription and how many you are allowed to have when writing the prescription for you. The label on the prescription vial or container holding your drug includes the information you should follow in accordance with your prescription refill.
Doctors may review your lab results and determine how effectively the medication is working to treat your illness. You should be aware that not all prescriptions are refillable.
Prescription Refill for better health management
Prescription refills

make sure that you have a sufficient supply of

medications,

lowering the chance that you will run out and miss your necessary and regular doses. This encourages improved

health management

and enhances the effectiveness of

treatments.
Regularly

renewing your medications

will help you stay on track with your medical care.  Regular

medication adherence

is essential in order to manage chronic illnesses, prevent instances of relapse, and maintain

general health and well-being.

Patients are more likely to follow their specified treatment plans if there is easy access to drug refills. Better health outcomes may result from

prescription refills

, and problems from untreated or improperly managed illnesses may be avoided.
Refilling a prescription

gives pharmacists the chance to check the patient's medication history and confirm that the

prescription

is accurate and suitable. This reduces the chance of pharmaceutical mistakes or interactions.
Requesting

medication refills

from patients encourages a feeling of self-autonomy and involvement in their healthcare. It motivates them to actively manage their

medication and general well-being.
A simple

prescription refill

process may reduce the stress related to monitoring your

medications

. You may rely on

Pharmedic Pharmacy

to prepare your

prescriptions

promptly and send them right to your door, avoiding any stress and bother.
How to refill your prescription with Pharmedic Pharmacy?
Prescription Refills are made easy with Pharmedic Pharmacy. In order to ensure that you receive your medication before your current supply runs out, we constantly aim to make the refill and renewal procedure simple, quick, and seamless. There are several ways for you to order a prescription refill if you still have any refills left in your current supply. You can simply refill your medications by either clicking RingMe on our website under Refill Prescription, calling or texting our phone number, emailing, faxing or visiting us in person. 
You can conveniently refill your medications online through our website www.pharmedicpharmacy.com and have them delivered to your home.
We want to make the procedure easier for you and make sure you never skip your medication.